products
CHEVROLET S-10/S-15 4 CYL 98-03 Air Intake Kit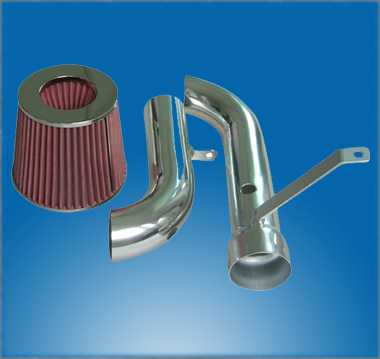 Product name : CHEVROLET S-10/S-15 4 CYL 98-03 Air Intake Kit
Item : 20024
Details :
Parts NO.:20024
CHEVROLET S-10/S-15 4 CYL 98-03 (matched with an iron bracket and a rubber pipe, Packing with white box)


Intake Pipe
Our intake pipe increases the air flow volume that is delivered directly to your turbocharger, providing much more efficient power and response.
TECH TIP:
1. Direct bolt on, no other mods required.
2. Includes hose clamps, hoses, gaskets, and hardware for an easy installation.
3. Full aluminum construct.
4. Mirror polished finish.
5. Different anodise colour are avaliable.
6. Not include Air Filter.
We will manufacture custom intake pipe to your specifications.
P

I

C

T

UR

E

PARTS No.

ITEMS NAME

DESCRIPTION

20001

AIR INTAKEPIPE

Honda CBX 88-91 (matched with an iron bracket and a rubber pipe, Packing with white box)

20002

AIR INTAKEPIPE

Honda Civic 96-98EX(matched with an iron bracket and a rubber pipe, Packing with white box)

20003

AIR INTAKEPIPE

HONDA CIVIC NON-DX/LX 99-00 (matched with an iron bracket and a rubber pipe, Packing with white box)

20004

AIR INTAKEPIPE

HONDA CIVIC ACCORD DX 94-97 (matched with an iron bracket and a rubber pipe, Packing with white box)

20005

AIR INTAKEPIPE

Honda Civic DX/LX 96-00 (matched with an iron bracket and a rubber pipe, Packing with white box)

20006

AIR INTAKEPIPE

Honda Civic/Del SOL 92-95 (matched with an iron bracket and a rubber pipe, Packing with white box)

Come Soon

20007

AIR INTAKEPIPE

HONDA CIVIC / CRX 88-91

20008

AIR INTAKEPIPE

Honda Civic 01-up EX

20008B

AIR INTAKEPIPE

Honda Civic 01-up EX

Come Soon

20009

AIR INTAKEPIPE

Honda Accord V6 98-02

20010

AIR INTAKEPIPE

Honda Accord 90-93 (matched with an iron bracket and a rubber pipe, Packing with white box)

20011

AIR INTAKEPIPE

Acura Integra GSR 94-01 (matched with an iron bracket and a rubber pipe, Packing with white box)

20011B

AIR INTAKEPIPE

Acura Integra GSR 94-01

20012

AIR INTAKEPIPE

Acura Integra 90-93

Come Soon

20014

AIR INTAKEPIPE

Honda Acura 94-97

20015

AIR INTAKEPIPE

Honda Accord 98-99 (matched with an iron bracket and a rubber pipe, Packing with white box)

Come Soon

20016

AIR INTAKEPIPE

NISSAN GTR R32/R33/R34

Come Soon

20017

AIR INTAKEPIPE

Toyota Corolla 90-93

Come Soon

20018

AIR INTAKEPIPE

MITSUBISHI EVO10

Come Soon

20019

AIR INTAKEPIPE

MITSUBISHI EVO7-9

20020

AIR INTAKEPIPE

Mitsubishi Eclipse 95-99 (matched with an iron bracket and a rubber pipe, Packing with white box)

20020B

AIR INTAKEPIPE

Mitsubishi Eclipse 95-99

20021

AIR INTAKEPIPE

MITSUBISHI WIRA 1.3/1.5 RAM

20022

AIR INTAKEPIPE

MITSUBISHI ECLIPSE 95-99 (matched with an iron bracket and a rubber pipe, Packing with white box)

20023

AIR INTAKEPIPE

CHEVROLET/GMC S-10/S-15 96-UP (matched with an iron bracket and a rubber pipe, Packing with white box)

20024

AIR INTAKEPIPE

CHEVROLET S-10/S-15 4 CYL 98-03 (matched with an iron bracket and a rubber pipe, Packing with white box)

Come Soon

20025

AIR INTAKEPIPE

SUBRAU WRX 01-05

20026

AIR INTAKEPIPE

Dodge Neon 95-98 (matched with an iron bracket and a rubber pipe, Packing with white box)

20027

AIR INTAKEKITS

PEUGEOT 106 1.6 16V air intake pipe kits

20028

AIR INTAKEKITS

PEUGEOT 206 1.4/1.6 16V intake pipe kits

20029

AIR INTAKEKITS

FLEXIABLE PLASTICPIPE
CHROME 3" INLETHORN